Discover the Power of Website Acceleration
Running an online store is not just about creating attractive products and offers, it also involves ensuring that your website operates quickly and efficiently. Researches show that page loading speed has a significant impact on conversion rate, which represent the percentage of visitors who become your customers. Therefore, today, we will explore how accelerating your website can boost sales in your online store.
Researches speak for Itself: Page Speed = Increased Conversion
Studies conducted by leading web traffic analysis firms unequivocally confirm that customers are more likely to stay on a fast-loading website. Even a one-second delay directly correlates with a 7% decrease in conversion rates (Source). People value their time, so they expect websites to function rapidly, displaying products and offers almost instantly. This is why, having a fast website builds trust in the eyes of customers.
According to Google's research, 53% of visits are abandoned if a website takes longer than 3 seconds to load. The "magic number" is 2 seconds, although Google sets ambitious goals, aiming for search results to load in less than 0.5 seconds. Even the slightest delays in website performance reduce the chances of generating profits.
User expectations for fast and efficient browsing experiences continue to rise, and businesses must adapt accordingly. Optimizing your online store's loading speed is a strategic move that can yield significant benefits in terms of user satisfaction, conversion and overall store ratings. This is the right time for you as an online store owner to consider investing in technology that can effectively increase online sales.
What Can Happen in Just One Second?
Numerous reports and analyses indicate that even a 1 second loading delay can lead to significant changes in a store. Such a small delay has a direct impact on conversion.
Your website should ideally load within 2 seconds to achieve the highest conversion rates. Nearly 70% of customers admit that the loading time of a webpage influences their purchasing decisions.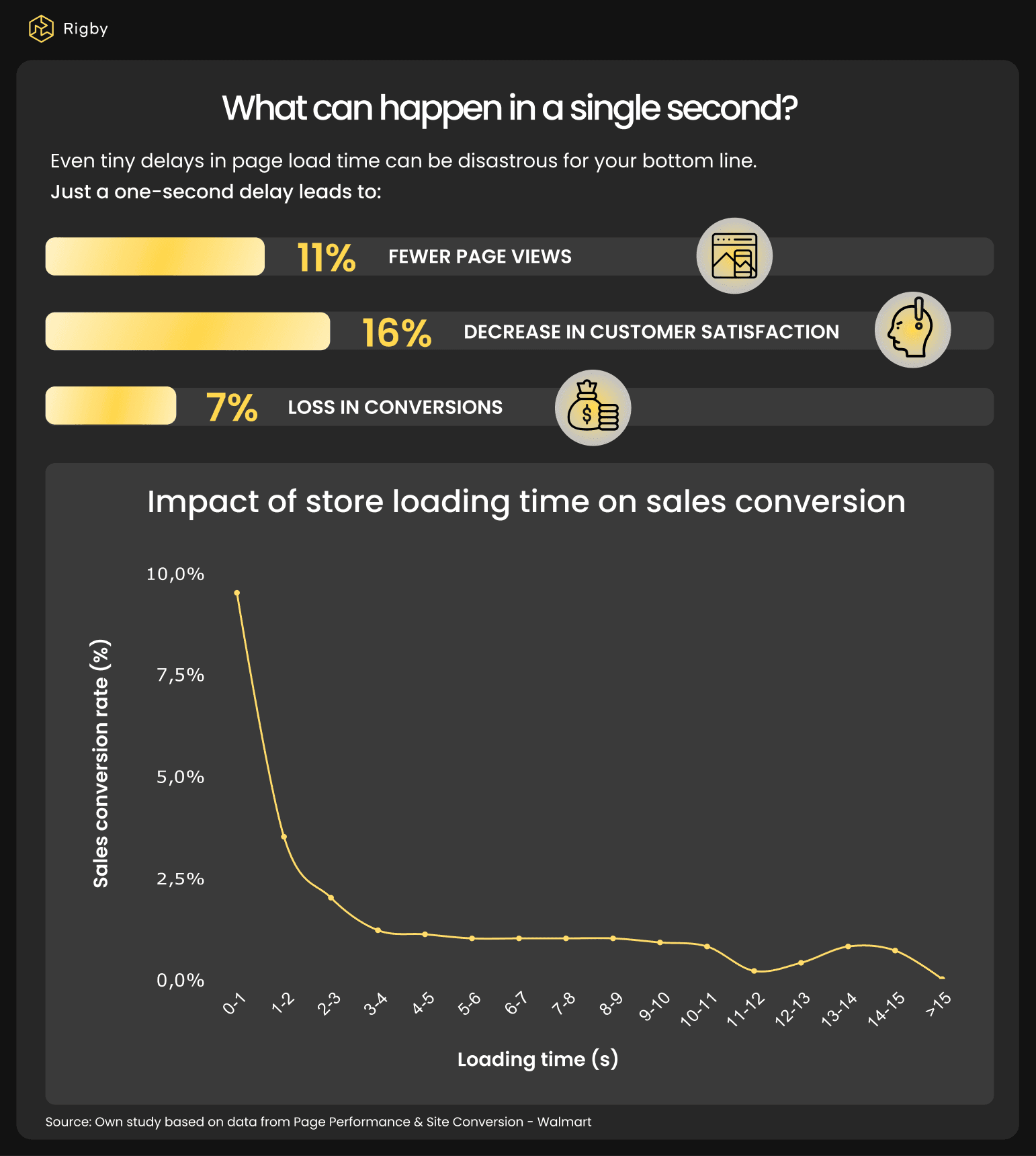 Market Leaders and Website Acceleration
In summary, if a website loads too slowly, new customers are more likely to leave and search for alternatives. This not only leads to potential customer loss but also harms the overall brand image. Market leaders such as Amazon, Walmart, Mozilla, Yahoo, and Google understand that faster loading time is not just a desirable functionality but a strategic advantage directly impacting their financial results and service quality. By investing in optimizing page loading time, these companies have observed not only increased sales but also improved user experiences, better search engine visibility, and higher user engagement on mobile devices. In short, it is their key to success.
To put the statistics into perspective, a giant like Amazon may lose $1.6 billion due to a one-second delay in page loading (Source). This is a compelling example showing how website acceleration can increase online sales. Would you want to lose that much money over a one-second difference? I assume not... It is, therefore, worth considering optimizing your current store or, if not possible, adopting new technology.
Headless: Solving the Issue of Slow Loading Websites!
Headless architecture is a modern approach that allows flexible expansion and adaptation of your website to changing needs, ensuring exceptionally efficient operation.
Traditionally, web applications are build monolithically, with the front-end and back-end closely linked. However, in headless architecture, these two layers are entirely separate. The back-end is mainly used for application logic and database access and processing. The front-end, on the other hand, is responsible for presenting data and all aspects related to the user interface and experience.
Thanks to this solution, your e-commerce platform operates at full speed, without delays or downtime, resulting in lightning-fast page loading times. If you want to learn more about headless architecture, check out our glossary of terms and concepts in headless eCommerce.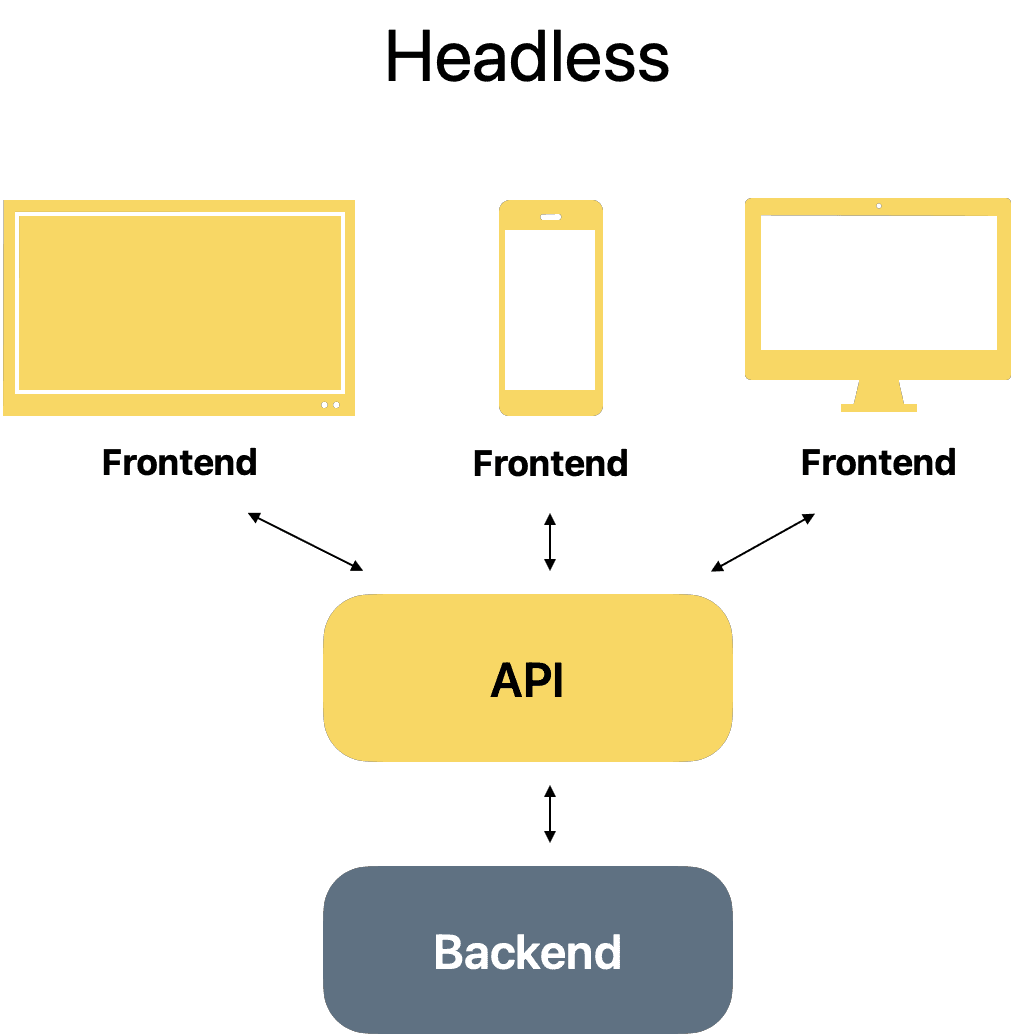 How Does Your Store's Speed Affect Conversion? Estimate It Using Our Free Calculator!
Based on various research findings, we have developed a free calculator to estimate the potential impact of improving page loading speed on e-commerce businesses.
If you are an online store owner, we encourage you to use this tool and see how optimizing your website's performance can benefit your business! Click here to go!