Competition in the eCommerce industry is becoming increasingly intense, raising the question of how entrepreneurs can maintain their leading position. One solution that promises to revolutionize eCommerce is Medusa.js technology. It's worth exploring its capabilities and understanding why it can be considered the future of online commerce.
What is Medusa.js?
Medusa.js is a modular, headless eCommerce platform. This means that the visual part (frontend) and the business logic (backend) are separated. Additionally, individual elements of the eCommerce platform are distinct modules that cooperate with each other.
For example, there are dedicated modules for the shopping cart, products, and order management. This approach, combined with open-source code, ensures flexibility and makes it a system that can be easily tailored to any business model.
It's a product developed under an open-source license, meaning it's completely free, available to everyone and maintained by the community. Currently, there are over 20,000 stores based on this technology, and its open-source code has been liked by more than 19,000 developers on GitHub.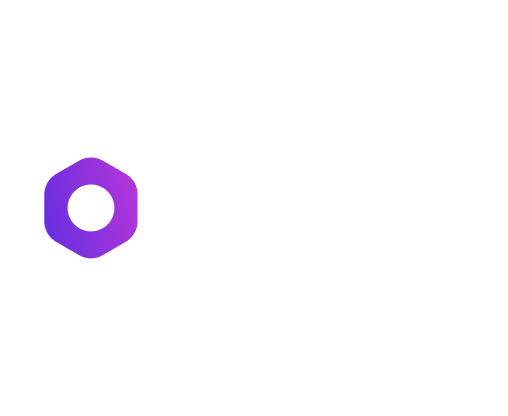 Benefits and possibilities resulting from using the Medusa.js platform in an online store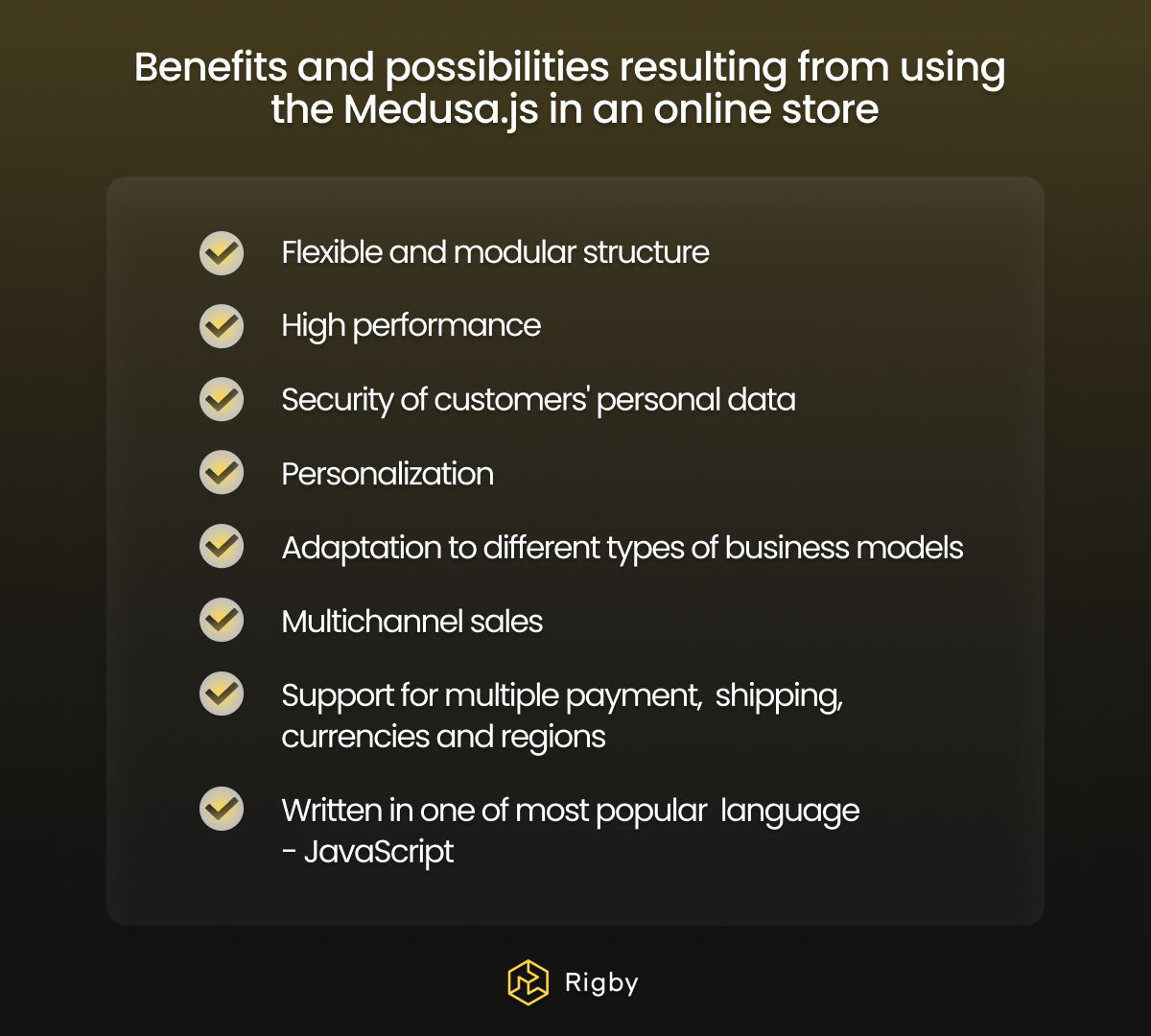 Flexible and modular structure
The flexible and modular structure of Medusa.js allows developers to customize the platform to your needs and add or remove features according to specific requirements.
Medusa is a system based on plugins, which enables developers to easily expand the functionality of your platform. There are many plugins available for various purposes, such as advanced inventory management, product and order management, or integration with external services.
However, the greatest advantage of this solution is that you can add your own code (functionality) to the system as needed. Nothing limits you here.
What is more, all modules necessary for your application are available on both the frontend and backend, as well as the administrative panel. What are the benefits of this functionality?
Creating a store as quickly as possible is one thing, but another advantage is the ability to use only selected components of Medusa. For example, if you already have all product information in another location (such as a PIM system) that you work well with, you can use only the order module, without transferring all data to the Medusa.js platform.
Performance
One of the main advantages of Medusa is its high performance. Thanks to its headless architecture, this system works extremely quickly, resulting in fast website loading and smooth browsing of online store offerings. This is a significant factor affecting customer satisfaction. We have delved into this topic in an article on how to increase sales in an online store.
Security
Online security is a priority, especially in online stores where payments are made. Authentication systems are created by the entire Medusa community, helping to minimize the risk of hacking attacks and theft of customers' personal data.
Personalization
By integrating Medusa with tools like Algolia, you can personalize your store's offerings. Through data analysis and user behavior, this system can provide personalized product recommendations. As a result, customers are more inclined to make purchases.
Furthermore, you have the ability to implement discount codes, price lists, gift card support, and customer groups. It's evident that this system brings many benefits to both B2B and B2C stores.
Scalability
Medusa.js is a flexible solution that can be easily adapted to different industries and types of online stores. Whether you run B2C sales, B2B, a Multi-Vendor Marketplace, or a simple web application, Medusa can be tailored to your needs.
Multichannel sales
Sellers can offer different products and offers on the website, others in the mobile application (which can also be connected to the Medusa system), and still others, for example, in voice assistants.
Support for multiple payment, shipping, currencies and regions
Medusa.js offers built-in support for popular payment gateways and also integrates with shipping services from major carriers, allowing merchants to streamline their shipping processes. This flexibility allows companies to choose payment and delivery options that best suit their customers' needs. The platform also supports multiple currencies and regions.
JavaScript language
This system is written in JavaScript, which is currently the most popular among developers (Source). This means that finding a developer to maintain such a project should not be difficult.
Challenges and risks associated with Medusa technology
Although using the system is completely free, Medusa technology requires suitable technical infrastructure, which may be a challenge for some companies. Changing hosting to support Node.js applications may be necessary. However, there are plenty of server solutions available where you can easily deploy Medusa, such as DigitalOcean or AWS.
In addition, Medusa.js is a relatively young technology that has been developing since 2021, so there are not yet many experts in the market who specialize in it. However, the number of specialists is continuously growing, so this is gradually becoming less of an issue. Moreover, we can count on the support of a huge community that has already formed around Medusa.
What are the development prospects for this platform?
Currently, Medusa.js ranks first in the ranking of the top 20 open-source projects related to eCommerce (Source). Its versatility and performance even compete with the paid Shopify platform. What's more, the creators of Medusa.js deliver new features and updates every week to ensure continuous technology development and a breath of fresh air in the market.
It's also worth noting that Medusa has a thriving developer community, which means there are many sources of support and learning materials available.
Using Medusa.js: The Unitra brand Case Study
Unitra partnered with us to implement a modern open-source solution that would not limit its future development and would allow for further innovations. The brand's grand return was to be visible not only in its products but also on the web. We developed a platform that uses the Medusa eCommerce engine, providing ease of use, fast loading worldwide, performance, and no limitations on further development.
You can read more about the collaboration and the solutions used in our case study.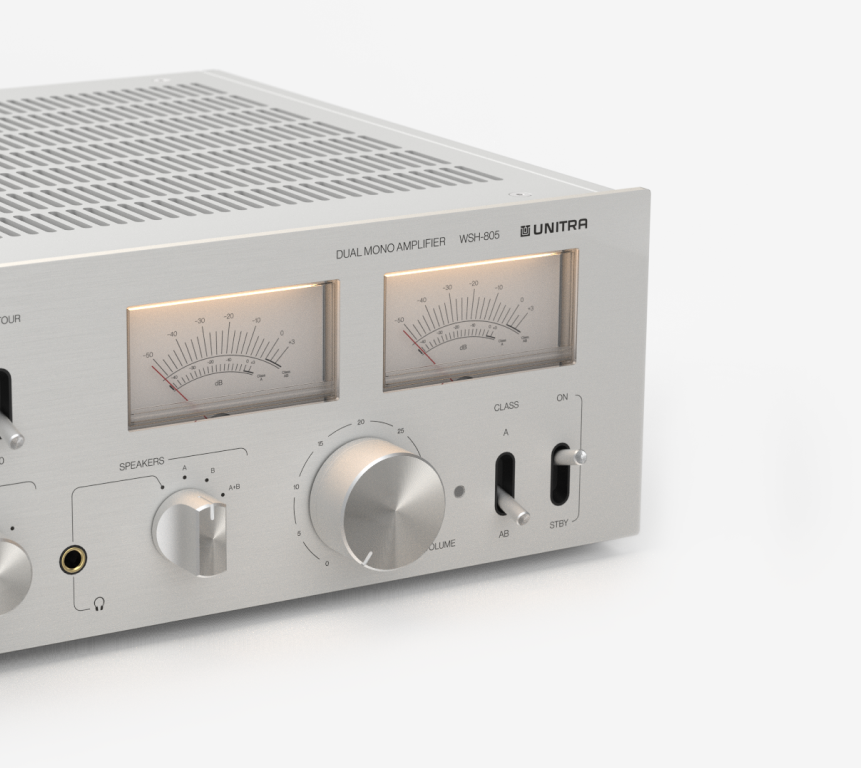 Medusa = The Future of eCommerce
In a nutshell, Medusa.js represents the future because it offers many useful and easy-to-implement features, continues to evolve strongly, and has a large community. Its founders are committed to expanding its potential and strengthening its position in the technology market.
Starting work with Medusa may seem complex because mainly only two companies worldwide, including Rigby, offer support and ready-made solutions that facilitate this process. On the Medusa website, you will also find many tutorials on implementation and building a store on this platform.
Companies that understand the potential of Medusa and implement it correctly can gain a competitive advantage in the online market. It's time to consider implementing this technology, which will change the way we develop eCommerce.